Process Improvement, Problem Solving Strategies & COPQ
Process improvement and effective problem solving strategies are two weaknesses of many companies. Every company has problems. That's right, every single one.
The difference between the outstanding performers and the average companies is how well they react to issues when they arise. The better performing companies have also found ways to get better at what they do. And the average ones are like the photo to the left. Is this your company?
Some companies believe that scrap, waste and defects are just the cost of being in business. They're right! It is a cost… called Cost of Poor Quality! (COPQ). These are dollars, euros, pesos, that can and do affect your company's ability to remain profitable... and stay in business.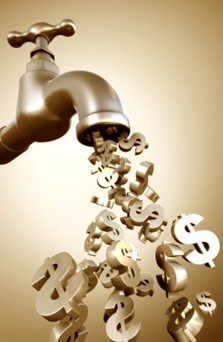 Carpenter Group Proudly Announces the arrival of a new e-book:
Using the Deming Cycle
Learn how to make PDSA work for you!
Your company can't continue to throw money away. More and more organizations are realizing the bottom line effect of COPQ, and taking the necessary steps to enhance their performance by measuring cost of poor quality and understanding these costs to improve profitability.
Several problem solving structures are currently popular. The following process improvement tools can be used in any industry, manufacturing, service, or information. Depending upon the complexity of a problem, your organization may choose to use any of the following methods:
Simple problem solving, including the 5 Step Approach, PDSA or PDCA, the Divide and Conquer method, which breaks down a complex problem into several smaller issues (stratification), 8D, popularized by the auto industry.
Basic lean manufacturing concepts Six Sigma methodology
---
Join the Quality-Improvement-Matters.com Community
Get answers to your questions, provide responses to questions, or tell us what you like about quality, our site, or pretty much anything that's on your mind. Best of all, it's free! Simply click the Join Our Site button and follow the instructions.
That's where we come in. The Carpenter Group LLC and this website were created to promote process improvement, quality management systems, and to provide a portal for general information about these topics. We want you to become a hero within your organization.
The Carpenter Group provides training, either at your facility or in our public seminars. Current offerings include ISO 9001 Internal Quality Auditor, ISO9001:2008 Internal Auditor Transition, Lean Principles/ Value Stream Mapping, Seven Quality Tools (plus a couple more you'll find useful), Problem Solving (mid 2009), Six Sigma (late 2009). All sessions are structured to help you learn about process improvement, to make your company stronger, and to ensure value-added activity takes place in your processes.
Visit our quality training section to view our offerings and current class schedules. Process improvement is a serious matter. Let us help you become even more successful.
Sign up for our E-zine and receive FREE STUFF

Can't find what you're looking for? Search our site!